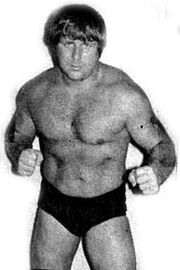 Vital Statistics
Edit
Wrestler Name: Ken Lucas
Real Name:
Birthday:
Hometown: Pensacola, FL
Marital Status: Widowed
Alignment: Heel
Height:
Weight:
Theme Music:
Wrestling Debut:
MVW Debut: October 1985 (Oxford-Tupelo-Corinth Circuit Commissioner)
Debut Opp:
Last Match:
Last Opp:
Style: Submission
Finishing Move: Sleeper / Abdominal Stretch
Favorite Moves: powerslam
Weapon:
Notable Feuds: Arnold Adams, Doyle Rater, Terry Thorson
Image: Self
Personal History
Edit
After Arnold left the Gulf Coast territory, things began to fall apart. Ken moved north to Decatur, AL and started the American Championship Wrestling Federation. It was bought out by the MVW in September 1985. Ken became the Oxford-Tupelo-Corinth Circuit Commissioner, replacing Wyatt Earp. Ken would stay in the MVW until it folded. He feuded with various other Circuit Commissioners, particularly Doyle Rater and Terry Thorson. He never forgave Arnold for not being able to successfully promote in a new area outside the NWA. Ken's favorite portion of his time in the MVW was the Team Championship Series.
Ad blocker interference detected!
Wikia is a free-to-use site that makes money from advertising. We have a modified experience for viewers using ad blockers

Wikia is not accessible if you've made further modifications. Remove the custom ad blocker rule(s) and the page will load as expected.